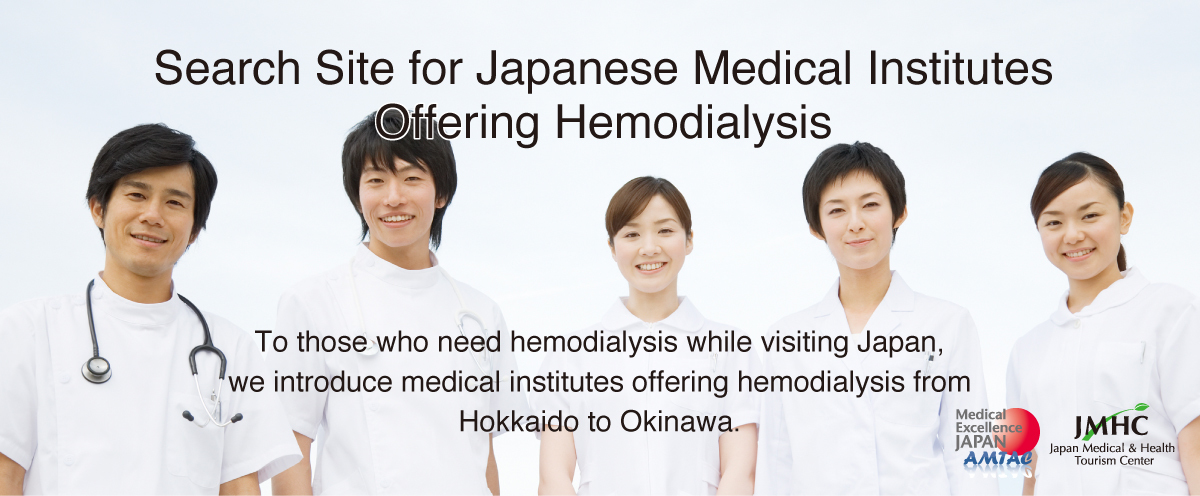 We offer one-stop service for the procedures necessary to receive hemodialysis in Japan, such as appointments for dialysis, acceptance measures, and payments, in commission with medical institutions.
[Three reassuring points]
Introducing institutes in the area you request, from Hokkaido to Okinawa.
Offering one-stop services from reservation to the day of dialysis
Multilingual support is available
[Service flow]
STEP 1  Application
Please let us know "date" and "city" of your requirement of dialysis treatment in Japan,
through ((Contact Us)) on the top of this page. At least 2 weels ahead. (Sunday is closed)
STEP 2  Confirmation
Acceptance condition in the institute is confirmed according to your requests.
STEP 3  Information presented
Please send the following documents in case that the institue accecpts your case;
①Inquiry Sheet (Patient Information Sheet) : we will send you the own format of the dialysis center when it is decided.
②Blood test report (LAB test) : please ask it to your home doctor.
STEP 4  Final Decision
The Japanese institute finally decide whether to accept you.
We can arrange interpreter according to the requirement.
STEP 5  Payment
When the reservation is fixed, you'll need to pay the dialysis fee before coming to Japan.
* Note: If you do not pay before coming to Japan, the reservation might be canceled.
STEP 6  Guidance
We'll inform you of confirmation of reservation and what to do on the dialysis day.
STEP 7  Dialysis
Submit a document on dialysis condition before coming to Japan and receive dialysis.
Please come to the dialysis center by yourselves.
Precautions in use of the service